On this Page:
---
Suing for climate action:
Can the courts save us from the black hole of political inaction?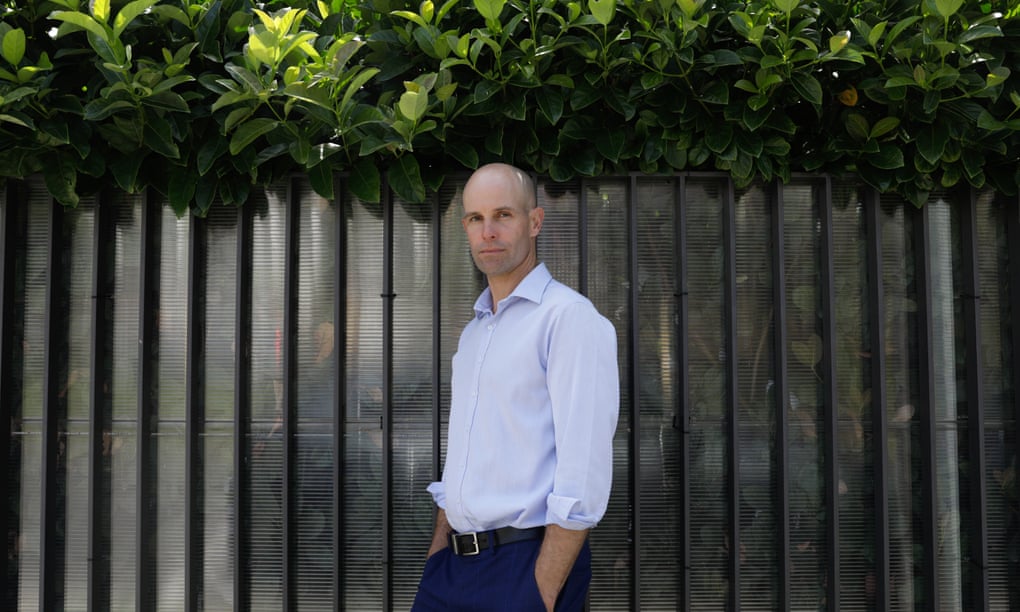 15 Nov 2020 – Climate litigator David Barnden had a landmark win this month against a major superannuation fund. He tells Guardian Australia he is just getting started.
---
The Great Barrier Reef Has Lost Half Its Corals
Researchers blamed climate change for the loss
14 Oct 2020 – The Great Barrier Reef, one of the earth's most precious habitats, lost half of its coral populations in the last quarter-century, a decline that researchers in Australia said would continue unless drastic action is taken to mitigate the effects of climate change.
Researchers studied coral colonies along the length of the reef between 1995 and 2017 and found that almost every coral species had declined.
Colony sizes were smaller; there were fewer "big mamas," or older large corals that produce baby corals; and there were fewer of those babies, which are vital to the reef's future ability to breed.
"Our results show the ability of the Great Barrier Reef to recover — its resilience — is compromised compared to the past, because there are fewer babies, and fewer large breeding adults," Dr. Andy Dietzel, the lead author of the study, said in a statement. The study was published on Wednesday in the journal Proceedings of the Royal Society.
---
Net loss: the high price of salmon farming
15 Sep 2020 – The salmon is as magnificent an animal as anything on the Serengeti – beautiful in its many phases; thrilling in its athleticism; moving in its strength, determination and courage – and it would be a tragedy if it were to disappear. All that is true, but a more important point is that if the salmon does not survive, there is little hope for the survival of the planet.

The salmon, though it belongs only to the northern hemisphere, has always been a kind of barometer for the planet's health. That is because anadromous fish – fish that live part of their life in freshwater lakes and rivers and part of it in the sea – offer a clear connection between marine and terrestrial ecology. Most of what we do on land ends up impacting the ocean, but with salmon we are able to see that connection more clearly.
Our greatest assaults on the environment are visible in salmon. Complex as the problem of survival is for most fish, few species are faced with as many difficulties as salmon. This is partly because it is central to the "food web" (now that we understand the importance of biodiversity and the interdependence of species, this term has replaced the more familiar "food chain") and partly because of a complicated life cycle that depends on both marine and inland habitat. In 2005, a group of scientists studying the survival prognosis for Pacific salmon concluded that 23% of all salmon stocks in the world were at moderate or high risk of complete extinction. For Atlantic salmon, the situation is even more desperate.
There is a growing realisation, greatly promoted by the United Nations Food and Agriculture Organization (FAO), that we have to start producing much more protein to sustain a growing world population. The FAO believes that we cannot afford to plough up more land for agriculture and we need to derive more protein from the sea. This is clearly not going to be accomplished with wild fish, already struggling under the effects of climate change. One way to make the sea productive is fish farming. But fish farming currently creates as many problems as it solves. Find out why – Read MORE HERE
---
Some Good News
A throng of new penguin colonies in Antarctica spotted from space
5 Aug 2020
Satellite images reveal guano patches, boosting known emperor penguin colonies by 20%
Satellite images have also revealed 11 previously unknown emperor penguin colonies in Antarctica, boosting the number of known colonies of the imperilled birds by 20%.
The discoveries were made by spotting the distinctive red-brown guano patches the birds leave on the ice. The finds were made possible by higher-resolution images from a new satellite, as previous scans were unable to pick up smaller colonies.
[More good news here]
---
Aggressive seaweed threatens Hawaii's remote reefs
The seaweed is producing mats as large as several football fields, killing everything found underneath.
7 July 2020
The algae easily breaks off and rolls across the ocean floor like tumbleweed, covering nearby reefs in thick vegetation that out-competes coral for space, sunlight and nutrients.
"This is a highly destructive seaweed with the potential to overgrow entire reefs," said biologist Heather Spalding, a study co-author and longtime Hawaii algae researcher. "We need to figure out where it's currently found, and what we can do to manage it."
In 2016, government researchers were on a routine survey of Pearl and Hermes Atoll when they found small clumps of seaweed they had never seen before.
Last summer, they returned to find algae had taken over huge areas of the reef – in some areas covering "everything, as far as the eye could see" – with seaweed nearly eight inches (20cm) thick, said Spalding, who was among the divers there.
"Everything underneath of it was dead," she told the Associated Press.
---
The Dead Sea of Tasmania
The ocean around southern Australia is a global heating hotspot
24 Feb 2020 – There are few places in the world where you can dive among giant kelp forests like those that used to flourish along the Tasmanian east coast. In California where Jack grew up diving amongst immense kelp beds, he found an amazing array of life amongst the towering giants. They provided food and refuge for so many creatures that a dive always provided a wondrous experience. Growing up to 40 metres from the ocean floor, the forests protected a vibrant ecosystem of sponge garden, fur seals, crayfish, weedy sea dragons and countless fish species.
In Tasmania, Mick Baron, a dive instructor and trained biologist at Hawknest on the Tasman Peninsula has watched the bull kelp disappear.
The forests started to die in the 1960s
Baron first noticed them vanishing from Deep Glen Bay, a short boat ride north-east of his dive centre at Eaglehawk Neck, in the late 1990s.
Nearly four times the global average – The HOT East Australian Current now runs along Tasmania's east coast.
The sea along the Tasmanian east coast is a global heating hotspot. Temperatures there have risen at nearly four times the global average. They are about 2C hotter than a little over a century ago.
Warm water pushed down the coast by the east Australian current has stripped the area of nutrients, brought new marine species, and killed more than 95% of the giant kelp. The impact on local ecosystems and fisheries has been severe.
"Our whole ocean has effectively shifted to the south," Baron says.
Small temperature increases have a great effect.
---
FISH FARM TRASH – Update
Open letter to Mr Mark Asman, Head of Aquaculture, Tassal Salmon Products

G'day Mark,
I am sure you were not pleased to see that we produced another video of the farm trash littering the shores of Macquarie Harbour. It saddened us to see that the plastic ropes are breaking down into strands and filaments that then degrade even faster into micro-plastic.
Against our best efforts to find a solution to this travesty, and the efforts by your team to reduce it, the truth is that day by day more farm trash finds its way to the shores of Macquarie Harbour.
Attached is an idea we've come up with that may encourage your team members to take extra care when handling plastic ropes in their day-to-day operations.
It's a poster suitable for printing on A2 board, which we thought come be mounted wherever workers meet or relax.
---
Equinor pulls out of the Great Australian Bight
TERRIFIC NEWS ! 24 Feb 2020
Norwegian oil giant Equinor has announced it will abandon its plans to deep sea drill in the Great Australian Bight!
Thank you! This is entirely thanks to the thousands of Australians who have come together to defend our precious marine life and coastal communities.
Working with the Wilderness Society, Sea Shepherd and the Great Australian Bight Alliance, we've seen local communities, Traditional Owners and the Australian public come together to take on the oil giants and knock them off one by one.
Equinor is the fourth oil company to withdraw from the Bight in recent years, following the exit of BP, Chevron and Karoon Gas.
Drilling for oil is just too risky in the deep, wild and internationally significant waters of the Great Australian Bight – with the potential to devastate our marine life, local communities, fishing and tourism businesses.
Australian Coalition Government seems determined to destroy our land and waters –
Resources Minister Keith Pitt expressed disappointment at the decision.
"I know many will find Equinor's decision not to proceed with this oil exploration project in the Great Australian Bight extremely disappointing, and it is particularly hard for South Australia," Mr Pitt said.
---
[ SAVE EARTH NOW continued page 3]
---