Imagine a world with abundant clean water.
Where everyone shares adequate energy from the sun and wind.
A world where forests, rivers, oceans, and wildlife thrive.
A tomorrow more beautiful than today.
This is the world we want to help create.
Population Matters Patreon, Sir David Attenborough once said:
All our environmental problems become easier to solve with fewer people, and harder – and ultimately impossible – to solve with ever more people.
A Glimmer of Hope
As the federal Coalition negotiates a climate policy ahead of the Glasgow COP26 summit, a new report says the majority of Australians support a target to achieve net zero.
The majority support a transition through renewables, while only 12 percent support a gas-powered recovery.
In Queensland, confidence in coal dropped significantly compared to last year.
The latest Climate of the Nation report found 75 per cent of Australians are concerned about climate change. (Supplied: Australia Institute)
---
Plain Stupid or Just Full of Ourselves?
Australia has lost one-third of its koalas in the past three years
MELBOURNE, Sept 21 (Reuters) – Australia has lost about 30% of its koalas over the past three years, hit by drought, bushfires and developers cutting down trees, the Australian Koala Foundation said, urging the government to do more to protect the creature's habitat.
The independent non-profit group estimated the koala population has dropped to less than 58,000 this year from more than 80,000 in 2018, with the worst decline in the state of New South Wales, where the numbers have dropped by 41%.
There were no upward trends anywhere in Australia. Only one area in the study was estimated to have more than 5,000 koalas, and some regions were estimated to have as few as five or 10.
"The declines are quite dramatic," said Australian Koala Foundation Chair Deborah Tabart on Tuesday.
Tabart said the country needs a koala protection law.
[More]

---
Glasgow climate talks
Will Australia try to BARGAIN ?
Australia has stated that China is the world's largest polluter. But China's status is new. Until 2006 it pumped out less per year than the United States. Because the US has had mega-factories and heating and so on for so much longer, it is responsible for by far the biggest chunk of the greenhouse gasses already in the atmosphere: 25 per cent, followed by the European Union with 22 per cent.
China might reasonably feel that countries like the US that have done the most to create the problem should do the most to fix it.
Like Australia, the US pumps out twice as much per person as China and has much more room to cut back.
---
Net loss: the high price of salmon farming
The salmon is as magnificent an animal as anything on the Serengeti – beautiful in its many phases; thrilling in its athleticism; moving in its strength, determination and courage – and it would be a tragedy if it were to disappear. All that is true, but a more important point is that if the salmon does not survive, there is little hope for the survival of the planet.
Find out why – Read MORE HERE

---
Tasmanian Salmon is One Big Lie
In a triumph of marketing, the Tasmanian salmon industry has for decades succeeded in presenting itself as world's best practice and its product as healthy and clean, grown in environmentally pristine conditions.
The documentary film Paradise Lost has been published in tandem with Flanagan's latest book – Toxic: The Rotting Underbelly of the Tasmanian Salmon Industry. Together, they offer an alarming insight into the devastating environmental impact salmon farms are having on Tasmania's once pristine waters, world heritage areas, and public health.
This video clearly shows the devasting effect salmon farming is having on Tasmania waterways
---
"The reef is deteriorating
and the outlook has gone from poor to very poor."
UN official rejects Australia's claim it was told Great Barrier Reef wouldn't be put forward for 'in danger' list
A senior Unesco official has rejected the Australian government's claims it bowed to political pressure when deciding to recommend the Great Barrier Reef be placed on the world heritage "in danger" list.
Dr Fanny Douvere, of Unesco's World Heritage Centre in Paris, also rejected a suggestion from the Australian environment minister, Sussan Ley, that the UN body had told the government a week ago it would not be recommending the listing.
Douvere said the United Nations Educational, Scientific and Cultural Organization (Unesco) had not provided – either formally or informally – any assurances to Australia before the decision was announced early on Tuesday.
"We don't share [decisions] before they are finalised," she told Guardian Australia. "That's the simple truth."
On Tuesday, Ley accused Unesco of a "complete subversion of normal process" and said the government would fight the recommendation, which is due to go before the World Heritage Committee next month.
"This decision was flawed and clearly there was politics behind it … for the World Heritage Committee not to foreshadow this listing is appalling," Ley said.
Ley claimed her officials were "blindsided" by the announcement and had been assured only a week ago that the reef would not be slated for the "in danger" list.
Ley and the foreign minister, Marise Payne, called the Unesco director general, Audrey Azoulay, to make it "clear that we will contest this flawed approach," the environment minister said.
Unesco recommends Great Barrier Reef world heritage site should be listed as 'in danger'
Douvere, who leads the marine program at the centre, rejected outright that Unesco would have offered any indication of its decision that would have led the Australian government to be surprised or blindsided, as was claimed.
"No. There was no such recommendations made at any point," she said from Paris.
"There is no doubt, based on the scientific information, that the Great Barrier Reef is in danger and it is important that the international community is aware of that. There is no process or procedure that requires us to share the content [of reports]."
Ley's accusation that political pressure had been placed on Unesco to come to a decision, which in some media was said to be coming from China, was "not correct, at all," Douvere said. [MORE]
---
Seabirds are today's canaries in the coal mine –
and they're sending us an urgent message
THE AUTHORS:
David Schoeman, University of the Sunshine Coast; Brian Allan Hoover, Chapman University, and William Sydeman, University of California San Diego
Just as caged canaries once warned coal miners of the risk of carbon monoxide poisoning, free-flying seabirds are now warning humanity about the deteriorating health of our oceans.
Seabirds journey vast distances across Earth's seascapes to find food and to breed. This exposes them to changes in ocean conditions, climate and food webs. This means their biology, particularly their breeding successes, can reveal these changes to us on a rare, planet-wide scale.
We collated and analysed the world's largest database on seabird breeding. Our findings reveal a key message: urgency in the Northern Hemisphere and opportunity in the south.
The Northern Hemisphere ocean systems are degraded and urgently need better management and restoration. Damage to Southern Hemisphere oceans from threats such as climate change and industrial fishing is accelerating, but opportunities remain there to avoid the worst.
Oceans at a crossroads
Seabirds often travel far across the planet. For example, many sooty shearwaters breed in New Zealand, yet travel each year to the productive waters of the northeast Pacific. Arctic terns migrate even further, travelling each year between the Arctic and Antarctic.
Scientists often use satellite-derived data sets to determine, for example, how the oceans' surfaces are warming or how ocean food webs are changing. Few such data sets span the globe, however, and this is where seabirds come in.
Over its long journey, a seabird eats fish and plankton. In doing so, it absorbs signals about ocean conditions, including the effects of pollution, marine heatwaves, ocean warming and other ecological changes.
Seabird breeding productivity (the number of chicks produced per female per year) depends on the food resources available. In this way, seabirds are sentinels of change in marine ecosystems. They can tell us which parts of oceans are healthy enough to support their breeding and which parts may be in trouble.
[ READ MORE ]
---
There are now more than 7,800,000,000 people on planet Earth.
It took until the early 1800s for the world population to reach one billion. Now we add a billion every 12-15 years.
Population Matters – Endgame 2050
"Conservation is an empty word if we continue our population growth"
One of many memorable quotes from doctor turned environmental filmmaker, Sofia Pineda Ochoa's, 'Endgame 2050', which I've just watched ahead of Population Matters panel discussion next week with some of the luminaries interviewed. By luminaries, I mean those shining a clear light on the facts – a minority in the environment movement. [MORE]

---
Aggressive seaweed threatens Hawaii's remote reefs
The seaweed is producing mats as large as several football fields, killing everything found underneath.
The algae easily breaks off and rolls across the ocean floor like tumbleweed, scientists say, covering nearby reefs in thick vegetation that out-competes coral for space, sunlight and nutrients.
"This is a highly destructive seaweed with the potential to overgrow entire reefs," said biologist Heather Spalding, a study co-author and longtime Hawaii algae researcher. "We need to figure out where it's currently found, and what we can do to manage it."
In 2016, government researchers were on a routine survey of Pearl and Hermes Atoll when they found small clumps of seaweed they had never seen before.
Last summer, they returned to find algae had taken over huge areas of the reef – in some areas covering "everything, as far as the eye could see" – with seaweed nearly eight inches (20cm) thick, said Spalding, who was among the divers there.
"Everything underneath of it was dead," she told the Associated Press.
---
Suing for climate action:
Can the courts save us from the black hole of political inaction?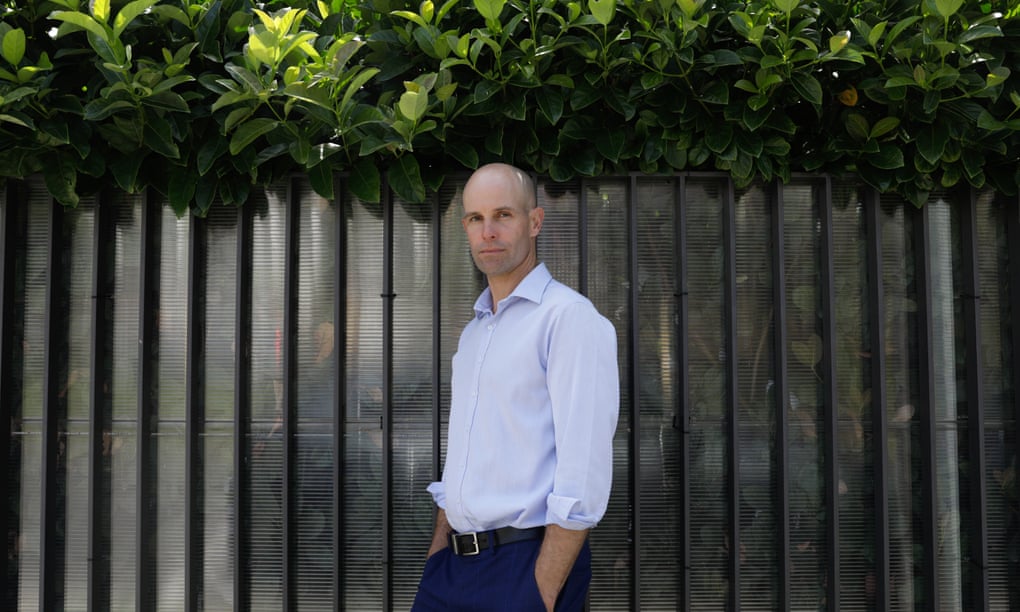 Climate litigator David Barnden had a landmark win this month against a major superannuation fund. He tells Guardian Australia he is just getting started.
---
The Great Barrier Reef Has Lost Half Its Corals
Researchers blamed climate change for the loss
The Great Barrier Reef, one of the earth's most precious habitats, lost half of its coral populations in the last quarter-century, a decline that researchers in Australia said would continue unless drastic action is taken to mitigate the effects of climate change.
Researchers studied coral colonies along the length of the reef between 1995 and 2017 and found that almost every coral species had declined.
Colony sizes were smaller; there were fewer "big mamas," or older large corals that produce baby corals; and there were fewer of those babies, which are vital to the reef's future ability to breed.
"Our results show the ability of the Great Barrier Reef to recover — its resilience — is compromised compared to the past, because there are fewer babies, and fewer large breeding adults," Dr. Andy Dietzel, the lead author of the study, said in a statement. The study was published on Wednesday in the journal Proceedings of the Royal Society.
---
Some Good News
A throng of new penguin colonies in Antarctica spotted from space
Satellite images reveal guano patches, boosting known emperor penguin colonies by 20%
Satellite images have revealed 11 previously unknown emperor penguin colonies in Antarctica, boosting the number of known colonies of the imperilled birds by 20%.
The discoveries were made by spotting the distinctive red-brown guano patches the birds leave on the ice. The finds were made possible by higher-resolution images from a new satellite, as previous scans were unable to pick up smaller colonies.
---
The Dead Sea of Tasmania
The ocean around southern Australia is a global heating hotspot
There are few places in the world where you can dive among giant kelp forests like those that used to flourish along the Tasmanian east coast. In California where Jack grew up diving amongst immense kelp beds, he found an amazing array of life amongst the towering giants. They provided food and refuge for so many creatures that a dive always provided a wondrous experience. Growing up to 40 metres from the ocean floor, the forests protected a vibrant ecosystem of sponge garden, fur seals, crayfish, weedy sea dragons and countless fish species.
In Tasmania, Mick Baron, a dive instructor and trained biologist at Hawknest on the Tasman Peninsula has watched the bull kelp disappear.
The forests started to die in the 1960s
Baron first noticed them vanishing from Deep Glen Bay, a short boat ride north-east of his dive centre at Eaglehawk Neck, in the late 1990s.
Nearly four times the global average
The sea along the Tasmanian east coast is a global heating hotspot. Temperatures there have risen at nearly four times the global average. They are about 2C hotter than a little over a century ago.
Warm water pushed down the coast by the east Australian current has stripped the area of nutrients, brought new marine species, and killed more than 95% of the giant kelp. The impact on local ecosystems and fisheries has been severe.
"Our whole ocean has effectively shifted to the south," Baron says.
Small temperature increases have a great effect.
---
FISH FARM TRASH
Open letter to Mr Mark Asman, Head of Aquaculture, Tassal Salmon Products

G'day Mark,
I am sure you were not pleased to see that we produced another video of the farm trash littering the shores of Macquarie Harbour. It saddened us to see that the plastic ropes are breaking down into strands and filaments that then degrade even faster into micro-plastic.
Against our best efforts to find a solution to this travesty, and the efforts by your team to reduce it, the truth is that day by day more farm trash finds its way to the shores of Macquarie Harbour.
Attached is an idea we've come up with that may encourage your team members to take extra care when handling plastic ropes in their day-to-day operations.
It's a poster suitable for printing on A2 board, which we thought come be mounted wherever workers meet or relax.
---
Equinor pulls out of the Great Australian Bight
TERRIFIC NEWS !
Norwegian oil giant Equinor has announced it will abandon its plans to deep sea drill in the Great Australian Bight!
Thank you! This is entirely thanks to the thousands of Australians who have come together to defend our precious marine life and coastal communities.
Working with the Wilderness Society, Sea Shepherd and the Great Australian Bight Alliance, we've seen local communities, Traditional Owners and the Australian public come together to take on the oil giants and knock them off one by one.
Equinor is the fourth oil company to withdraw from the Bight in recent years, following the exit of BP, Chevron and Karoon Gas.
Drilling for oil is just too risky in the deep, wild and internationally significant waters of the Great Australian Bight – with the potential to devastate our marine life, local communities, fishing and tourism businesses.
Australian Coalition Government seems determined to destroy our land and waters –
Resources Minister Keith Pitt expressed disappointment at the decision.
"I know many will find Equinor's decision not to proceed with this oil exploration project in the Great Australian Bight extremely disappointing, and it is particularly hard for South Australia," Mr Pitt said.
---
The world 'may have crossed tipping points'
Scary headline that spells doom for our children
Cascade of unstoppable events _Read this to understand
The researchers, writing in a commentary article in the journal Nature, acknowledge that the complex science of tipping points means great uncertainty remains. But they say the potential damage from the tipping points is so big and the time to act so short, that "to err on the side of danger is not a responsible option". They call for urgent international action.
We push fossil fuels with the zeal of a drug lord
Australia is now the second-largest gas exporter, the second-largest thermal coal exporter and the largest metallurgical coal exporter on the planet. We push our products with the zeal of a drug lord – we do not care about the future misery we are creating.
Greenhouse gas emissions are not reducing
Global greenhouse gas emissions each year are not reducing, they are accelerating. The scientific community has been issuing increasingly urgent calls for rapid reductions in emissions with the foresight that global warming trends will bring these kinds of "unprecedented" conditions. The federal government chooses to ignore them. Three decades on from the first report of the Intergovernmental Panel on Climate Change, Australia's emissions are growing again, as are our fossil fuel developments.
UK's Wildlife plummeted
Quarter of mammals, nearly half of birds at risk of extinction
The State of Nature report finds the losses to all animals, plants and marine life show no sign of letting up, despite some successes in protecting individual species. It found that 41% of species have decreased in abundance, while just 26% have increased.
A quarter of UK mammals and nearly half of the birds assessed are at risk of extinction, according to the report, which was produced by a coalition of more than 70 wildlife organisations and government conservation agencies. When plants, insects and fungi are added, one in seven of the 8,400 UK species assessed are at risk of being completely lost, with 133 already gone since 1500.
---

One example of the Fish Farm Trash unleashed upon the shores of World Heritage Macquarie Harbour
---
Beef industry responsible for 94% of land cleared
in Great Barrier Reef catchments
Spatial data analysis: 'Beef is number one' driver of deforestation crisis
Years ago, humanity could do what we wanted, our impact on the planet was so infinitesimal that the creation patched up and carried on. But you know how it is when you get too much of an irritant, then every occurrence causes a rash, an itch, an infection, until it overwhelms the mind and body. Some die from this unless change is made. Earth, the creation, has had too much. Our interference with the atmosphere is sprouting reactions; our mucking about with the wild kingdom is having a roll-on effect. Our loss of love for the creation is a landslide destroying all in its path. Mankind, humanity, our children, the future of our unique brilliance is threatened.

Let us not lose the opportunity of becoming one with the creation, that is the real purpose of our lives and not a narcissistic glorification of our achievements and worth.
---
'Unprecedented': more than 100 Arctic wildfires burn in worst ever season
Huge blazes in Greenland, Siberia and Alaska are producing plumes of smoke that can be seen from space
The Arctic is suffering its worst wildfire season on record, with huge blazes in Greenland, Siberia and Alaska producing plumes of smoke that can be seen from space.
The Arctic region has recorded its hottest June ever. Since the start of that month, more than 100 wildfires have burned in the Arctic circle. In Russia, 11 of 49 regions are experiencing wildfires.
The World Meteorological Organization (WMO), the United Nations' weather and climate monitoring service, has called the Arctic fires "unprecedented". [MORE]
---
All-time temperature records tumble again as heatwave sears Europe
Highs in Germany, Netherlands and Belgium exceeded for second time in 24 hours
Germany, the Netherlands and Belgium have recorded all-time national temperature highs for the second day running and Paris has had its hottest day ever as the second dangerous heatwave of the summer sears western Europe.
The extreme temperatures follow a similar heatwave last month that made it the hottest June on record. Scientists say the climate crisis is making summer heatwaves five times more likely and significantly more intense. [MORE]
---
BHP announces $US400m plan to combat 'indisputable' climate crisis
World locked in an ideological struggle while specie die and we boil
The chief executive of the world's largest mining company has endorsed drastic action to combat global warming, which he calls "indisputable", and an emerging crisis.
"The planet will survive. Many species may not," the BHP chief executive officer, Andrew Mackenzie, told a business breakfast in London on Tuesday. "This is a confronting conclusion but as a veteran geologist once said, 'you can't argue with a rock'."
Mackenzie endorsed carbon pricing but said it was not enough to combat the looming threat of mass extinctions and major sea rises.
He announced BHP was spending $US400m ($A570m) to create a climate investment program to reduce emissions from its own operations as well as those generated from its resources.
---
Macquarie Harbour Fish Farm Update
War on Waste
The War on Waste has awoken many of us to the tragic side of plastic. But Jack and Jude are no-strangers to this. These last fifty years we've been seeing increasing human trash on the shores and seas, and on very isolated isles and atolls. Therefore it shouldn't be surprising that we've been rising the alarm about plastic fish farm trash in Macquarie Harbour, which is a very special case for several reasons. One is that it's World Heritage, an area of significance legally protected by international treaties. And secondly, it's a nearly closed body of water that little escapes. And that's an interesting point. What we are finding in Macquarie Harbour illustrates just how much plastic waste escapes from fish farm leases. What we see in that nearly landlocked harbour represents what is escaping from all the other farm leases and gets washed away into the wider seas. Of the fish farms In Macquarie Harbour, Tassal have been in operation since 1986. We'll get to that in a moment.
Macquarie Harbour Farms Represents All Fish Farms
Shifting attention to Macquarie Harbour with its insidious problem of fish farm ropes breaking down into micro-plastic, we received an update from the head of Tassal's Aquaculture, Mr. Mark Asman.
In an email he told us that he'd gone to Macquarie Harbour and walked the shores of Brisbane Bay at the location of our last expose on Fish Farm Trash, and had seen various pieces of debris. And that he has been told the amount of debris is declining (with each successive effort), but it needs continuous effort to get where we want.
He wrote, "So the plan will be to 1. Keep on the culture side by "stopping it at the source" (we think this is having a real impact, just takes time) , 2. Continue the regular shoreline clean-ups by the staff and others and 3. Working on a solution like you mention, a permanent crew to walk the shores…I hope to have more clarity on this when you return."
That sounds encouraging. And we sure hope it happens and is not just illusory promises. Mark has been talking about "changing the culture" from our very first conversation.
In replying to Mark's email, we pointed out that Tassal has been in the fish farming business since 1986. That's thirty-three years. And that Tassal employs 1261 people. We know many and they are good people who work hard to produce farmed salmon at approximately 20 leases in six regional areas within Tasmania. Tassal is a public company listed on the ASX. In 2017, Tassal earned a NET profit of A$58.08 million, that's the net increase in shareholders' equity.
Sustainability
Tassal prides itself on not only what it produces but how it produces it. Check out their website. "Our consumers can be confident that the Tassal Salmon has been raised by an environmentally and socially responsible company." In July last year, Tasmania's Department of Primary Industries (DPIPWE) introduced a "zero tolerance" for marine debris. And that for a company claiming such high environmental standards, achieving "zero tolerance" for marine debris should rank above all else.
In our email to Mark, we mentioned that what we recorded in Macquarie Harbour these last couple of years would have been going on for many years at every fish farm lease. The difference? – All that trash floated away across the oceans.
And we had some proactive suggestions to reduce fish farm trash:
permanent crew walking the shores collecting trash
lengthened the soft eye net ropes so they can be secured to the pens – many blow away.
filter out the micro-algae when cleaning the nets instead of releasing it to drift round the harbour (the gunge)
filter out the molluscs when cleaning the nets instead of releasing them back into the harbour.
First Community Harbour Clean Up – April 2017
---

Scientists shocked by Arctic permafrost thawing 70 years sooner than predicted
Ice blocks frozen solid for thousands of years destabilized –
'The climate is now warmer than at any time in last 5,000 years'
Permafrost at outposts in the Canadian Arctic is thawing 70 years earlier than predicted, an expedition has discovered, in the latest sign that the global climate crisis is accelerating even faster than scientists had feared.
A team from the University of Alaska Fairbanks said they were astounded by how quickly a succession of unusually hot summers had destabilised the upper layers of giant subterranean ice blocks that had been frozen solid for millennia.
"What we saw was amazing," Vladimir Romanovsky, a professor of geophysics at the university, told Reuters. "It's an indication that the climate is now warmer than at any time in the last 5,000 or more years."
---
Clean energy found to be a 'pathway to prosperity' for Northern Territory
Renewable energy is not only a money-spinner for the NT, it can also help the fossil fuel industries expand, a new report says
It says the NT economy could be transformed through incentives for renewable-powered manufacturing and downstream minerals processing, targets for mines to transition to 100% clean energy and electric machinery by 2030 and support for Indigenous communities to be equity partners in zero-carbon developments. It calls on the NT and federal governments to fund common infrastructure to turn what is known as the 10-gigawatt vision into a reality – for example, transmission lines connecting Darwin and Alice Springs to allow clean energy developments in remote locations.
Eytan Lenko, chairman of the thinktank Beyond Zero Emissions, commissioned the report while living in Darwin in 2018 after seeing divisions in the community between people concerned about the health of the economy and those opposed to fracking. He says the full plan would cost businesses about $20bn out to 2030 on today's prices, though the scale of the investment is expected to fall as clean tech becomes cheaper. It estimates it could create more than 8,000 jobs and yield more than $2bn in annual export revenue.
---
Bill Shorten may not be the leader we need
Geoff Cousins reveals how Bill Shorten wavered on Adani mine

Opposition leader assured environmentalist he would commit Labor to revoking the licence for the controversial coal project, but then faltered
The businessman and environmentalist Geoff Cousins is absolutely unequivocal.
He said the federal Labor leader Bill Shorten called him, just before Christmas last year, looking for help in how Labor might strengthen its policy on the controversial Adani coalmine – and then Shorten followed up several times since, asking to be given more time to convince colleagues to support the shift in position.
Read More Here This article indicates that Mr. Shorten lacks the credentials and punch to convince his colleges that stopping the Adani Mine is an election winning strategy. His answer on the issue is no longer that labour will not allow Adani to proceed, and has shifted to, when in government we will review all details and make the decision then.
Jack and Jude hope we find a strong political leader who is able to bring party support to this highly contentious situation. Does Australia allow the largest deposit of fossil fuel be developed and burnt on planet Earth for the return of export dollars. Or do we stand firm in the belief that we can find the financial return in other endeavors. We must weigh up the consequences, and resulting costs, of burning all that fossil fuel on the world's environment. More Barrier Reef losses, more intense fires, less rain for crops.
---