Our Latest Video

Join the excitement on a Dream Voyage backwards through time
Search for remnants of the French Frigate Duroc
Robust wildlife all love, surrounded by the magical beauty of the Coral Sea Startling discovery begins search for French Frigate lost in 1856
The Search for the Duroc – 90 minute video – Available in DVD and HD Blu-ray
Watch the Trailer ~ Take the Voyage
Petrea McCarthy – Cruising Helmsman Ideas Locker
Been watching Jack and Jude Binder's latest DVD – Coral Sea: In Search of the Duroc. Fantastic stuff – takes the viewer along into this magic, rarely visited world. Heaps of cruising tips there too, if you're paying attention. Excellent photography, the usual laid-back commentary. Recommended for anyone with an interest in the sea, cruising, or just wanting some inspiration.
In 1982, Jack and Jude led an amateur radio expedition to Herald's Beacon, a small sand cay atop Mellish Reef, five hundred miles east of Cairns, Australia's furthest territory in the Coral Sea. A month before our landing, a cyclone tracked across this low narrow sand island and huge seas swept over it leaving its surface flat and unbroken except for masses of half-buried seabirds with their necks broken. The cyclone's powerful forces reshaped the island, exposing a coral shelf in which Jack found an embedded bronze eye bolt. Intrigued, this began a search spanning more than three decades.
Our research brought to light heroic efforts by the 75 souls stranded after the French Frigate Duroc ran aground on an uncharted reef in 1856. Suffering terrible deprivation, through great courage every soul was saved by their own efforts. Three open boats containing 30 men set off for help while the others remained on the tiny island where they built a small boat for the remaining 40, including the ship's captain, his wife, and small daughter.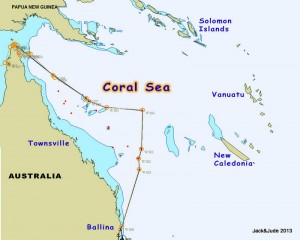 Our research did not pinpoint the exact position of the steam driven Duroc, but it did offer clues. Relaunching our homemade yacht in 2007, we set off for the furthest reaches of the Coral Sea to begin a search for whatever remained of the wooden warship. But calamity struck straightaway. At sea Jack suffered a ruptured appendix and only a dash to hospital saved his life, temporarily ending our quest. Six years later in the winter of 2013, we again sailed away from the Australian mainland to search for the Duroc, and our journey, discoveries, and rich wildlife were recorded in HD video. This video and Coral Sea Cruising Guide resulted from that 2,000 mile, 6 week voyage.

Available Now
includes delivery within Australia
Please include shipping address on checkout form
Contact Jack and Jude for other file formats and delivery outside Australia
---
Two's a Crew

Over 115 hours of video were taken during our two year circumnavigation, which we distilled  into an hour and half DVD that includes a prologue and 2 episodes.
Here's a preview:  Two's a Crew Preview
There are many quite stunning scenes sailing the oceans around Australia and many more exploring the very remote parts of the Top End, Rowley Shoals, Australian Bight and Tasmania.
We take our cameras deep into the Kimberley to search for the oldest know rock art. Explore the most unique coral reef in the world – Rowley Shoals, 200 miles offshore from Broome with the biggest tidal range on the planet. Climb Mount Misery amongst the harsh yet compelling beauty of Port Davey in the bleak southwest corner of Tasmania. And of course there are whales close up, plenty of action catching big fish, plus a wonderful interlude becalmed in the Great Southern Ocean.
Running time: Prologue 6 min, Top End 39 min, Down Under 38 min
Price includes Delivery:
Please include shipping address on checkout form
---
Tasmania Summer 2012

Over 90 minutes of Tasmanian mini-adventures surrounded by scenery few see.
Jack and Jude: Life Afloat. If you've read our blog, here's the action and exquisite beauty found off the tourist track.
The Green Machine opened up new territory in summer 2012 with the kayak taking us up rivers few explore. We paddled high up the Gordon River to the Rocky Sprent searching for long abandoned Huon Piner campsites to record their exact GPS positions and compare with old photos.
In World Heritage Port Davey further south, we paddled through the exquisite gorge in perfect weather. Then trekked overland to the far south coast of Tasmania, where offtrack along ridges in perfect photographic conditions we explored. Taking Banyandah across the shallow Old River Bar, we kayaked up river to locate one of the last mature Huon Pines in that area. Midway along Port Davey we searched and found the lonely grave of Critchley Parker, an ill equipped dreamer planning an Utopian community. Then aboard Banyandah, braving a fresh gale we sailed south under Maatsuyker Island to reach the safety of Tasmania's East Coast.
Running time: 5 episodes totally 90 mins
Price includes Delivery:
Please include shipping address on checkout form
---
 Tasmania' s Summer 2010
A Tasmanian adventure featuring our three day walk along the historic King River railroad where we documented a hundred years of pollution from Australia's oldest mine. And a scenically wonderful voyage aboard "Stormbreaker" up the fabulous Gordon River to pick up a group of rafters. With a segment of living history from Max and Marie inside Kelly Basin where in 1900 a railroad was hacked out of virgin rainforest. The fourth episode, our three day assault on one of the hardest peaks in Tasmania. No trails, open button grass across a myriad of streams to the top of Mount Sorell overlooking Tasmania's west coast.
Running times: 1) 44 min    2) 19 min    3) 20 min    4) 36 min
Price includes Delivery:
Please include shipping address on checkout form
---
South Australia Holiday
Take an autumn sail around the two gulfs of South Australia, featuring a wander through the famous Joseph Banks Archipelago. Plenty of wildlife and a bit of wild weather. From Adelaide through many of the anchorages to Port Lincoln and the Joseph Banks Group back to Adelaide.
Running time: 64 min
Price includes Delivery:
Please include shipping address on checkout form