Buy Bulk – Save on shipping

HALF-PRICE $50

FREE delivery within Australia
(oversea delivery A$25)

–

Off the Tourist Track

Enjoy the adventure and exquisite beauty of Australia

BONUS with Single DVDs

FREE ELECTRONIC CRUISING GUIDE

specify guide and format when ordering DVD – otherwise PDF for DVD area will be supplied
Latest Video
Discovery starts search for Frigate lost in 1856
Prolific wildlife up close and magical aura of Coral Sea Anchorages

The Search for the Duroc – 90 minute video
Take the Voyage
"As a non-sailor, the footage really put me in the picture – well done Jack and Jude. Magnificent country we live in for sure!!!" Says
Joe Schmesh
, Gold Tripod Award-winner.
Been watching Jack and Jude's latest DVD – Coral Sea: In Search of the Duroc. Fantastic stuff – takes the viewer along into this magic, rarely visited world. Heaps of cruising tips there too, if you're paying attention. Excellent photography, the usual laid-back commentary. Recommended for anyone with an interest in the sea, cruising, or just wanting some inspiration.
Petrea McCarthy – Cruising Helmsman Ideas Locker
In 1982, Jack and Jude led an amateur radio expedition to Herald's Beacon, a small sand cay atop Mellish Reef, five hundred miles east of Cairns, Australia's furthest territory in the Coral Sea. A month before our landing, a cyclone tracked across this low narrow sand island and huge seas swept over it leaving its surface flat and unbroken except for masses of half-buried seabirds with their necks broken. The cyclone's powerful forces reshaped the island, exposing a coral shelf in which Jack found an embedded bronze eye bolt. Intrigued, this began a search spanning more than three decades.  More Information Here.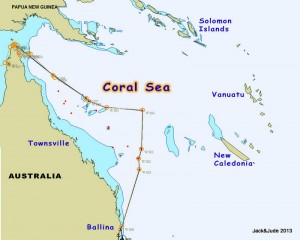 Delivery Included –
Select Delivery Option
Please include shipping address on checkout form
---
Two's a Crew
We take our cameras deep into the Kimberley to search for the oldest known rock art. We'll explore the most unique coral reef with the biggest tidal range on the planet – Rowley Shoals, 200 miles to sea from Broome. Climb Mount Misery surrounded by harsh compelling beauty of Port Davey in the stormy southwest corner of Tasmania. There are whales close up, plenty of action catching big fish, plus a wonderful interlude becalmed in the Great Southern Ocean. Running time: 90 minutes in 3 episodes
Delivery Included –
Select Delivery Option
Please include shipping address on checkout form
---
Tasmania 2
The Green Machine opens up new territory with the kayak taking us up rivers few explore. First the Gordon River to search as far as the rocky Sprent River for Huon Piners Camp remnants.
In World Heritage Port Davey, we paddle through an exquisite gorge in perfect weather. Then trek overland to the far south coast of Tasmania, where we explore off track, again, perfect photographic conditions. Taking Banyandah across the shallow Old River Bar, we kayak up river to locate a last stand of mature Huon Pines. Then we search and discover the lonely grave site of Critchley Parker, an ill equipped dreamer. To escape we brave a spunky fresh gale taking Banyandah south under Maatsuyker to reach safety in Recherche Bay on Tasmania's East Coast. 5 episodes totally 90 mins running time.
Delivery Included –
Select Delivery Option
Please include shipping address on checkout form
---
Tasmania 1
Four adventures in Tasmania featuring a trek along the historic King River railroad where Jack and Jude document 100 years of pollution from Australia's oldest mine. Followed by a scenically wonderful voyage up the fabulous Gordon River aboard Stormbreaker. Then a segment of living history inside Kelly Basin where in 1900 a railroad was hacked out of virgin rainforest. The fourth episode, a three day assault on one of Tasmania's toughest peaks. No trails across a myriad of streams to the top of Mount Sorell. Running time: 120 min.
Delivery Included –
Select Delivery Option
Please include shipping address on checkout form
---
South Australia
Take an autumn sail around the two gulfs of South Australia, featuring a wander through the famous Joseph Banks Archipelago. Plenty of wildlife and wild weather. From Adelaide through many of the anchorages to Port Lincoln and the Joseph Banks Group back to Adelaide. Running time: 64 minutes
Delivery Included –
Select Delivery Option
Please include shipping address on checkout form