Explore Earth with Jack and Jude

---
Our Latest Video
Summer 16 was tremendous.
Jack and Jude get excited by places with great stories.
In 2016, we filmed two.
Forty thousand years! An incredible time for the southernmost people to have lived in harmony with Earth and we bring their story to the wide screen by exploring their remote homeland near the SW tip of Tasmania.
At the other end of Tasmania, in 1797, a voyage to a fledgling colony results in shipwreck on the the wild and scenic Preservation Island next to mysterious Rum Island in the Furneaux Group. Explore these isles with Jack and Jude and hear the survivors' fascinating story.
This DVD also features practical guidance to South Coast Islands, Dover, Hobart, climb the mountain, Con-Dock entrance, Denison Canal, Schouten Island and Swan Island.
And –
We continued our search, and tagging, of historic Goulds Track that once linked the developed East Coast to the untamed mineral rich west, and record our finding of Carvers Boatyard at Port Davey, last in action 1894.
More Information – Purchase Here

Summer 16 trailer from JACKandJUDE
---
---
BLOG: "Our Life Afloat"
---
Reflections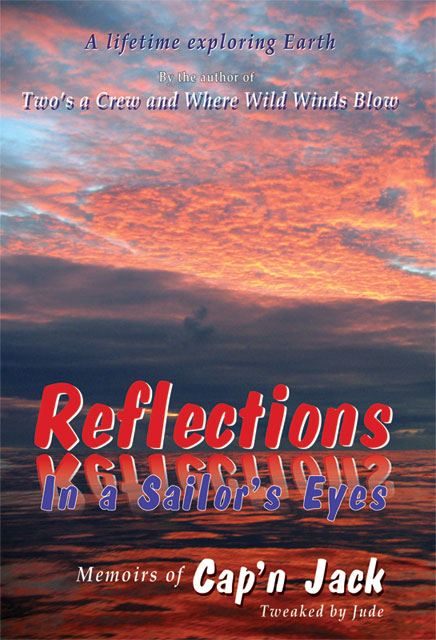 We really like what the Editor of Cruising Helmsman said of our book of true stories that reach back right to the beginning.
"Reflections in a Sailor's Eyes is a book of snapshots allowing the reader into a world difficult to access – with experiences impossible to recreate."
– Phillip Ross, Editor Cruising Helmsman Magazine
Every sailor and adventurer new or old, or just dreaming, ought to read Reflections in a Sailor's Eyes. Great stories and human insights.
– Mark, Sydney, NSW
A Terrific Read! After reading about Africa I now worry that we've been in a car with you guys, beginning to question your sanity. What a blast!
– Terry, Western Australia.
I have finished Reflections and what an amazing read ……
You guys deserve your rewards for getting "off the couch" in style!
– Rob, Tasmania.
More information – Purchase Here

---
Voyages of Banyandah: Sail Australia
Rent the first 5 of our DVDs
Voyages of Banyandah: Sail Australia from SailFlix on Vimeo.
---
---
90 minute DVD

Search for Frigate lost in 1856
Prolific wildlife close up ~ magical Coral Sea Anchorages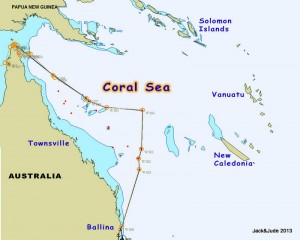 More Information – Purchase Here
---
In Paperback and Electronic publications available immediate download
PRACTICAL
For all who want to enjoy life afloat
Simply explained, over 200 photos and diagrams
In Practical Boat Bits and Tips are the best features of Banyandah, illustrated in photographs, diagrams and Jude's direct style. Best take her word, she's the one keeping Banyandah in top shape.
Jude Binder has 40 years of experience finishing and maintaining vessels. She is also an accomplished sailor with 150,000 miles under sail, so she knows what stands the test of time. Living afloat continuously for sixteen years, raising and educating her two sons while they sailed to over eighty countries, she learned how to organize, victual, and manage small ships.
Print format here ~ E-format here .
READING
One of the world's greatest adventures – Following Flinders wake around Australia – 9,000 nautical miles across six climatic zones. We've been exploring Earth for more than 40 years and in Two's a Crew we investigate our homeland of Australia and compare what we see with what we remember from early travels. Our homemade yacht, a 40 year veteran, takes us through crocodile infested waters to some of the world's oldest rock paintings, and into pristine coral atolls, even through Hell's Gates itself.
Anyone interested in adventure and love that has survived more than four decades will enjoy Two's a Crew.
Print format ~ Electronic format
---
Our journey begins at an easy pace recalling cute moments from the earliest days raising two boys afloat. It explodes into action when the Two J's explore Flinders Island in Bass Strait, where we visit Black Man's Houses, the final resting place for Tasmanian Aborigines. We then do the unexpected by walking 40 km along a rainforest railroad to investigate a century of pollution of Tasmania's King River.
Reporting environmental disasters will always be a major focus, but it's back to action when we take on the Great Australian Bight to explore the remote Recherche Archipelago. Strong winds take us to Albany in WA to visit friends. Then we battle a stormy Great Southern Ocean when sailing back to Tasmania. Driven way off course. Battered, bruised, very wet, but afloat, we sailed on to rendezvous with dear friends and cruise together to Tasmania on something like a second honeymoon for both couples.
Printed Where Wild Winds Blow ~ Electronic Where Wild Winds Blow
Our books/DVDs available here
Readers' Comments ~
Excellent yarn, Lovely ending, Really enjoyed reading it.
It's a fantastic book that warrants a second and third read. Chock full of tips and hints for the not so experienced, history woven through in an interesting way, and a great story. Sailing story, love story, history, travel – what more could a reader want?
Petrea.
Two's a Crew
We take our cameras deep into the Kimberley to search for the oldest known rock art. We'll explore the most unique coral reef with the biggest tidal range on the planet – Rowley Shoals, 200 miles to sea from Broome. Climb Mount Misery surrounded by harsh compelling beauty of Port Davey in the stormy southwest corner of Tasmania. There are whales close up, plenty of action catching big fish, plus a wonderful interlude becalmed in the Great Southern Ocean. Running time: 90 minutes
---
Tasmania 1
Four adventures in Tasmania featuring a trek along the historic King River railroad where Jack and Jude document 100 years of pollution from Australia's oldest mine. Followed by a scenically wonderful voyage up the fabulous Gordon River aboard Stormbreaker. Then a segment of living history inside Kelly Basin where in 1900 a railroad was hacked out of virgin rainforest. The fourth episode, a three day assault on one of Tasmania's toughest peaks. No trails across a myriad of streams to the top of Mount Sorell. Running time: 120 min.
---
Tasmania 2
The Green Machine opens up new territory with the kayak taking us up rivers few explore. First the Gordon River to search as far as the rocky Sprent River for Huon Piners Camp remnants.
In World Heritage Port Davey, we paddle through an exquisite gorge in perfect weather. Then trek overland to the far south coast of Tasmania, where we explore off track, again, perfect photographic conditions. Taking Banyandah across the shallow Old River Bar, we kayak up river to locate a last stand of mature Huon Pines. Then we search and discover the lonely grave site of Critchley Parker, an ill equipped dreamer. To escape we brave a spunky fresh gale taking Banyandah south under Maatsuyker to reach safety in Recherche Bay on Tasmania's East Coast. 5 episodes totally 90 mins running time.
---
South Australia
Take an autumn sail around the two gulfs of South Australia, featuring a wander through the famous Joseph Banks Archipelago. Plenty of wildlife and wild weather. From Adelaide through many of the anchorages to Port Lincoln and the Joseph Banks Group back to Adelaide. Running time: 64 minutes
To purchase our DVDs