electronic: PDF – ePub – Mobi formats


web version updated with additional photos and historical notes
This guide covers only those reefs and islets within Australian territory
Safe anchorages
Great diving- no stingers
Superb fishing
Unobstructed passage to Torres Strait
59 pages
Weather information
Beautiful Photographs
Anchorages, weather, wrecks, attractions, what to do, fishing.
Full colour maps with GPS positions and safe tracks, aerial views, chart snippets
PDF formatted to print on A4 (Adobe version 9.0 or later)
EPUB displays on your iPhone or iPad, even when offline
MOBI displays on Kindle type devices
Personally reconnoitered by Jack and Jude
Anchorage positions marked in GREEN are from our personal experiences during our five-week voyage through the Coral Sea in June/July 2013.
Anchorage positions marked in MAROON are from our personal experiences in five voyages around the Coral Sea in the 1970s and 80s.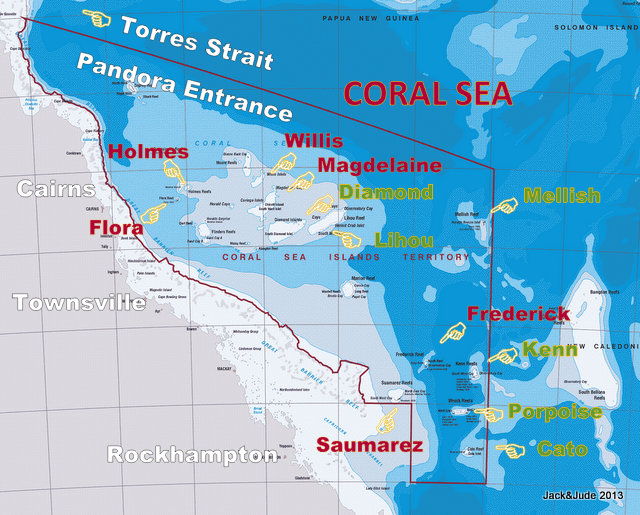 | | | |
| --- | --- | --- |
| | | |
| Use with most EReadersiPhone, iPad, Nook, Sony | Use withKindle type devices | Printable Use with PCs and similar devices |
(PDF format requires Adobe version 9.0 or later)
We've been sailing since we were kids and have safely explored untold scary places.
So rest assured, if you follow our lead, you too will have the experience of a lifetime.
Other eBooks Frequently Purchased:
Tasmania Cruising Guide ~ electronic format
South Australia Cruising Guide ~ electronic format
Two's a Crew Australia Circumnavigation ~ electronic format
Practical Boat Bits and Tips ~ electronic format
NOTES:
Select your desired format by clicking on the appropriate Buy Now, which will bring up a secure payment system using MasterCard, Visa, direct debit or PayPal.
Immediately after payment is made a link will be presented to download your file. Also an email will be sent with payment confirmation and duplicate link. These links expire after 24 hours and allow 5 attempts to download. Contact us if there's a problem.
As you can well imagine, this project has taken a bit of dedication and literally hundreds of hours, so all we ask is that you respect our copyright and do not replicate or distribute our files. Instead send your mates here to buy us a wine. Cheers. If this project is well received we've an eye to producing a complete electronic Australian Cruising Guide further down the log.
KINDLEs: The secret to uploading any file to a kindle is to know where the file is on your computer, and then plug in the kindle using the USB cable. It will then be recognized as just another device like a thumb drive or camera. Using your file manager (Explore in windows) copy and then paste the file into the "documents" folder listed under your kindle. Once you see your file in that"documents" folder, when you turn on the kindle it will show up with all your other books.
Therefore the secret is to download our Cruising Guide to a location that you can find, like "My Documents" or Win 7 uses "downloads_net" which is a folder under "My Documents.
iPhones and iPods are easier, especially if you download our file straight from the device.
If you have trouble, email Jack for help.