June 2018 May 2018 >>
Blog of Jack and Jude
explorers, authors, photographers & videographers
Happy Birthday – or was it?
No birthday cake, No presents, and it got a whole lot worse than no cake or presents
Jude and I might be odd in that we like to celebrate our birthdays and anniversaries surrounded by the great outdoors. Ever since becoming a team fifty years ago, we've gone bush or set sail across oceans on days of special events.
Second week in June, everything looked sweet for an outing to celebrate my notching up another year of Earth life with the weather outlook for northern NSW indicating a few weeks of clear skies and cold temps. So, bundling up our gear, we took off for a river we are rather fond of, twenty kilometres off-road.
To actually reach the river, one must trek down a steep hill littered with loose stones perfect for slipping upon, demanding the greatest care to avoid injury. With 10 days of supplies on our backs we set off downhill late in the day and straightaway we were alarmed that our loads seemed too great for safety. It was too late to turn back, so instead, like a team under attack, we encouraged the other to take extra care, especially at tricky spots. Bone weary with legs aching we arrived at the riverbank three hours later.
At a beaut spot on grass next to the river with a big fire shielding us from the sub zero temps we lamented the toll the trek down had taken on our legs. Then after sleeping fully clothed in down sleeping bags, next morning we found our water containers frozen solid and our legs still aching, and now stiff and tight. Not a worry really on a wonderfully warm sunny morning, and so like playful kids we enjoyed a leisurely wander up a creek not carrying a load. Then on the third day, we packed up camp and set off upriver, still struggling with our loads.
Those of you that have followed our exploits will know that we're not casual walkers, and have in fact been trekking the wilderness for nearly four decades, exploring and finding lost infrastructure for much of that time. Therefore our thinking is aligned with safe work practises and we carry considerable safety equipment including satellite location beacons and a comprehensive medical kit. As well, we practise how to take a fall, something that can happen when bashing through wild terrain. Plus we believe that when we go wild, we will not seek rescue unless life or greater damage are a risk. That's the mentality we've taken since first sailing offshore so many decades ago, and that philosophy of looking after oneself has helped us to be prepared in emergency events.
We won't deny that both Jude and I are ageing and losing physical strength, and if we had greater funds we'd be investing in lighter gear, clothes, and food. After what happened that has risen up the list of priorities. And those weighty thoughts might have been in Jude's mind as we trudged along going up river, and dreaming of light gear just might have distracted her as we came over a crest where the riverside grass gave way to a sheet of near-bare rock that had casuarina needles strewn across it, along with an array of marble sized pebbles.
I was in the lead when I heard Jude comment, "Gee, this is dangerous going." And just as I looked about, I saw her right leg slip from under her and watched in horror as her left leg got stuck under her as she went down with nearly twenty kilos on her back.
Emergencies often occur in the blink of an eye and this one had Jude crying out in pain while writhing on the hard ground. After having sailed many miles and been clobbered by natural forces many times, we become a little detached in these circumstances. In an instant, I shed my load and was down beside Jude easing the heavy pack off her back while easing her left leg forward into a more natural position. Then we went through what hurt, examining both her ankle, which Jude thought might just be sprained, then her wrist which looked a little out of shape. Both were already becoming puffy and showing bruising. But, in the middle of nowhere it was not possible to determine if any bones had been fractured. So, after making Jude as comfortable as possible, I went off to find a place to camp. This took over an hour as we were then close to an abrupt cliff face with large rocks between it and the water. Suffice to say I found an adequate spot that was tight, in shade, and a fair distance from water.
That night I fretted over what to do next, wondering; should we push the magic red button and await rescue or let a bit of time go by to better assess Jude's physical condition. What was the right action?
Morning light revealed Jude in better spirits and a wee bit better on her feet, although her left arm could not push nor pull without pain. Encouraged by this, I explored the river's other bank, which was the side our vehicle was on, and found, much to my delight, an easy crossing leading to a wide grassy bank in full sunshine.


I shifted our gear across in two crossings then assisted Jude across the river. She managed this fairly well, so we setup camp next to rising forested hills alive with several species of passerine birds singing in chorus and then lazed around under a heavenly windless blue sky. Next day Jude's ankle was a little bit better, and her wrist began to take a bit of weight too, so three days went past in these near perfect conditions. On the last of these days, with Jude's ankle allowing her slow movement, we took a testing stroll down the riverbank and around the river bend, a return distance totalling about a kilometre.
To get to our car, which had been left at the end of a 4WD track, we needed to climb 600 metres over a distance of about 3 kilometres. This Jude would have to do on her own, and I'd either do a double journey up and down to get all our gear out or maybe it all could be all squeezed into my jumbo sized backpack. We stayed an extra day to give Jude's body more healing time before breaking camp and packing. It turned out that by putting our two sleeping bags into Jude's rucksack, I could get all the other gear into mine. Jude's pack weighed about 10 kilos, while mine tipped the 20 kilo mark. Nevertheless, off we went trudging uphill ever so slowly and so very carefully.
Hillsides of dry eucalyptus forests are normally quite open, which makes for easy travel, and this one had very little forest litter obstructing our progress, but it was the steepness that kept us in check.
Jude says she managed by taking baby steps, watching every footfall, and that her ankle, although swollen, went okay when walking on the ball of her foot, so it didn't hurt much. Our journey took about four hours and by late that day, we'd found our vehicle and setup camp next to it. While doing this Jude said, "A really curious thing during our walk up the hill was that crazy bird sounding just like an emergency siren. It was as if the ambulance was on its way to get me. I'd love to know which birds call just like a siren. A medium size bird I think."
Now it wasn't until after ten nights sleeping rough in freezing weather without the benefit of a hot shower that we lobbed up at Ballina Emergency. We won't complain that we had to wait three hours before being taken to radiography then have Jude's wrist put in plaster, because after all, our emergency had occurred a week earlier. But it did irritate us that after finally arriving back in our shack, the hospital called with the attending doctor asking if we could come back in because she'd put the wrong cast on. Or, more correctly, had only put enough cast on to protect one of the bones with nothing supporting the other fracture. It seems after we'd left she'd conferred with the 'bone doctor' at Lismore Base Hospital.


Well, both Jude and I looked at the other in a long silence while we both thought about a hot shower, a good meal, and an easy night's rest in a warm bed until the doctor asked if we were still there, and I blurted out that a replacement cast would have to wait till morning!
Jude now faces about month of light duties. For the moment I'm her chauffeur and do the things that require two hands. On the positive side, she's comfortable and sleeping well. Unfortunately a few projects will have to be put on hold till she's two handed again…..
---
Changing Hats, Again
Is it us or has time sped up? It seems like we were just packing up the shack to rejoin Banyandah in Tasmania, and here we are again back in the shack! That six months went f-a-s-t. Mind we did accomplish so much last summer and when you're busy, time flies, doesn't it?
First thing to report is that our travels from 42 to 29 south latitude went swimmingly. Can't recall easier flights. Thanks to Barry and Wendy, our stopover in Hobart went smoothly and we had a great time. And thanks to Virgin, we zipped through check in, even with the load we carried with us, they checked our luggage straight through so there was no messing around in Sydney, claiming it back, carting it for hours, only to check it back in. Jetstar mucked us about so much going down time, we swore never again – The straw event was a Jetstar attendant taking Jude's walking stick away just as she tried to board saying it was a dangerous weapon. It had to go in the Hold. That was already closed. So the stick would have to go on the next flight, which was the next day.When the only danger was Jude falling down and breaking her leg again!
Enough whinging. Hey, it is marvellous to have bright sunny skies again. Wow, Tasmania is beautiful, but the sun does seem to hid behind low cloud a lot of time. And it's warm here! We were in shorts and tee-shirts straight off the plane!
---
Entering Hell's Gate – It's heating up in Macquarie Harbour
Our good friends in Tasmania called us Snowbirds because we fly away with the first snow, which by the way is halfway down Mt Wellington with hail reported at our boat in Strahan. But that's not stopping events heating up with the salmon farming down there. A report of 1.35 million fish dying last summer has generated headlines of
Macquarie Harbour salmon: 1.35 million fish deaths prompt call to 'empty waterway of farms'
http://www.abc.net.au/news/2018-05-29/salmon-deaths-in-macquarie-harbour-top-one-million-epa-says/9810720
Mixing old and young fish is a recipe for disease, the EPA says. ABC News: Sophie Zoellner
Tasmania's Environment Protection Authority (EPA) confirmed 1.35 million salmon died in Macquarie Harbour on Tasmania's west coast since last October.
An area management agreement report provided by Huon Aquaculture, Petuna and Tassal found the deaths were mainly due to an outbreak of pilchard orthomyxovirus (POMV), transferred from wild populations.
That report had not been made available to the public.
EPA director Wes Ford told ABC Hobart the 2017 "mixing of young fish with old fish" could exacerbate the likelihood of disease in the population.
"POMV can be exacerbated by stress caused by heat, low oxygen, and I think this summer we've seen some elevated temperatures and clearly some concerns about oxygen."
He confirmed the EPA would be reducing Macquarie Harbour's biomass limit by 21 per cent over the next two years, from 12,000 tonnes to 9,500 tonnes.
Report By Siobhan Galea, Emily Street and James Dunlevie
It's really good news that the biomass will be reduced back to the levels prior to the expansion, but the damage has been done and will take a change in operations to repair the damage. So we wrote to James Dunlevie to alert him to the dire situation in World Heritage Macquarie Harbour:
As the secretary of an active local group, Jude and I have lived through the destruction of Macquarie Harbour and have protested and warned as have others.
https://www.youtube.com/watch?v=0g0rCob5Rq4
Background to the above video –
https://www.youtube.com/watch?v=PFJYG06n1zc
https://www.youtube.com/watch?v=Io70qnBTz0M
---
83 Containers lost off Newcastle
Debris washes up NSW coast after ship loses containers
Debris has begun to wash up on parts of the NSW coast after a shipping vessel lost 83 containers in wild weather.
The operator of a cargo ship that lost more than 80 containers overboard in wild seas off the NSW coast says no dangerous goods or contaminants were inside.
YM Efficiency, a Liberian-registered vessel operated by the Yang Ming Marine Transport Corporation, was making its way from Kaohsiung in Taiwan to Sydney's Port Botany on Thursday night when it encountered large swells.
It lost 83 containers in the water off Newcastle and a further 30 containers on board are severely damaged.
Roads and Maritime Services was alerted on Friday.
"A full manifest of the cargo on board the vessel, and the condition of the vessel, is being sought," spokesman Angus Mitchell said in a statement.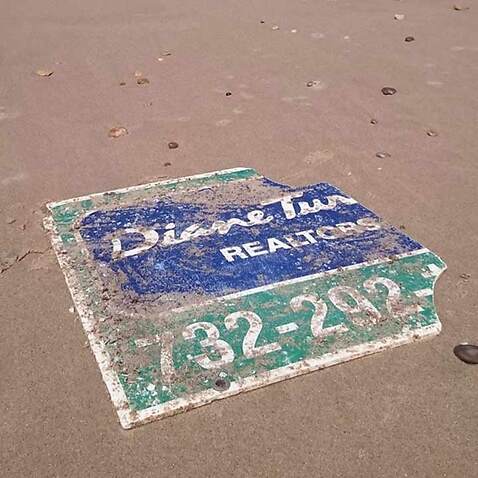 Sign washed away in Hurricane Sandy lands on French beach
It's now the vessel operator's responsibility to recover and remove the 40-foot containers, RMS added.
A Yang Ming spokeswoman confirmed to AAP there were no dangerous goods or marine contaminants inside the containers.
"There is no security concern about the condition of the vessel," she said in a statement.
"As for the containers … Yang Ming will inform the customers and discuss with P & I (insurers) for follow-up."
RMS said two containers had been spotted about 100 metres off Fingal Head and Boondelbah Island, near Port Stephens.
Boaters were alerted to the potential hazards on marine radio.
Members of the public can report any sightings to the Australian Maritime Safety Authority on 1800 641 792.
An AMSA spokesman said it has tasked its Essendon Challenger jet to assess the ship for damage and help locate containers.
The ship was reportedly refused entry to Port Botany on Friday.
---